Asteronotus hepaticus

(Abraham, 1877)

(

n/a

)
Sinónimos:
Doris hepatica Abraham, 1877: Combinación original. "Proceedings of the Zoological Society of London, 1877. S. 249, Taf. 28, Fig. 9" [MOLARC].
Platydoris hepatica (Abraham, 1877): Reasignación de género
Asteronotus hepaticus (Abraham, 1877): Combinación aceptada
Etimología: Del latín hepaticus = relativo o de color del hígado. En la descripción original se describe el color del especimen como del color del hígado [AUTOR].
Descripción
: Cuerpo y branquias de rojo a purpúreo, con numerosas ampollas a menudo unidas y formando meandros [REEF_CREA].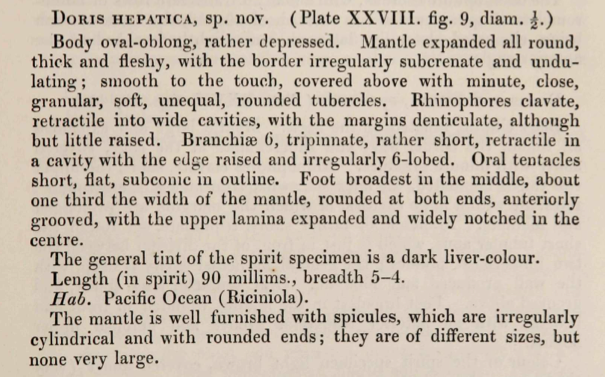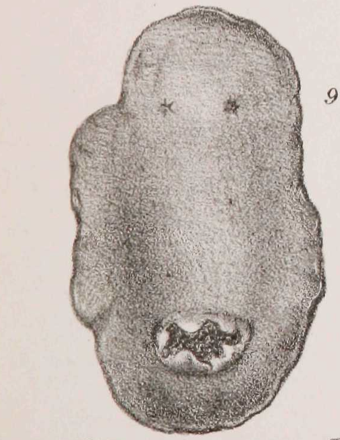 [ORIG]. Posiblemente no se trate de la misma especie [AUTOR].
Tamaño
: Hasta 35cm [REEF_CREA]
Hábitat
: Bentónico tropical marino, golfos y bahías [SLB], coral y roca [NUD_ENC], fondo de arena [NOAH].
Profundidad
: Al menos de 6,5 [NOAH] a 12m [NUDIPIXEL].
Distribución
: Filipinas [SLB], Pacífico occidental hasta las Salomon [REEF_CREA], incl. Palau, Indonesia, Timor y Malasia [NUDIPIXEL].
Comportamiento
: Nocturna [REEF_CREA]. De día se puede encontrar bajo corales en fondo de escombro [NUD_ENC].
Alimentación
: n/a
Reproducción
: n/a.
Especies similares:
A cespitosus: No presenta el color del cuerpo púrpura rojizo con puntos blancos opacos ni tantas ampollas [GTBV_2008] pero más grandes [DORIS].
| Idioma | Nombre |
| --- | --- |
| Español: | n/a |
| Inglés: | Burgundy Asteronotus [NUD_ENC], liver-colored Asteronotus [REEF_CREA] |
Localización fotografías: Sulawesi
| | | | |
| --- | --- | --- | --- |
| Taxonomía | © Isidro Cuallado | Creación: 14 septiembre 2013 | Última modificación: 19 septiembre 2013 |